Associate Diploma in Facilities Services
Provide trainees new to facilities management sector with a range of essential skills they are likely to need to perform successfully in their career role in the facilities management industry. This qualification will provide students with a foundation understanding of workplace and facilities management, health and safety, and service delivery.
High school certificate plus High A2 English Language level (diagnostic assessment to be undertaken on application) Fast-track available.
Classroom: Blended classroom delivery, online learning, practical skills in realistic working environments
Workplace Experience: Trainees will be registered with employers or on a sponsorship program to allow them to undertake training before commencing their employment duties within the workplace or continue to further study.
Portfolio of evidence completed in the workplace plus multiple-choice questions
FHM are pleased to deliver this program in association with the Institute of Workplace Facilities Management (IWFM).
All students who are registered with FHM will be able to apply for membership to take their career in workplace and facilities management further with IWFM membership.
Let us support your professional development and help you to be the best that you can be.  Progression routes available at leadership and management levels on completion of the Diploma level course with FHM.
Core Skills
Intermediate English
Computer skills
Business transactions
Workplace training
Mandatory Units
Reduce risks to health and safety in the workplace
Promote and maintain service delivery
Group A
Develop customer relationships
Contribute to the effectiveness and efficiency of premises and facilities
Group B
Support the work of a team and develop yourself
Control the use of resources in a Property, Caretaking & Facilities Services environment
Maintain grounds of premises and facilities
Maintain site security and safety
Control the use of premises and facilities
Work safely at heights
Monitor and maintain electrical and plumbing services
Carry out maintenance and minor repairs
Operate plant to maintain the quality of pool water
Deal with routine waste
Deal with non-routine waste
Deep clean equipment in premises and facilities
Support the co-ordination of an event
Moving and transporting individuals within a healthcare environment
Transport physical resources within the work area
Clean and maintain internal surfaces and areas
Introduction to equality and inclusion in health, social care or children's and young people's settings
Provide reception services
Handle mail
Communicate effectively in the workplace
Working in Facilities Services
Health and Safety for Facilities Services
Working with customers and others in Facilities Services
Sustainability and environmental issues for Facilities Services
Important – This qualification includes a variety of BICSc units to underpin the learning criteria so trainees will be Licensed to practice cleaning science.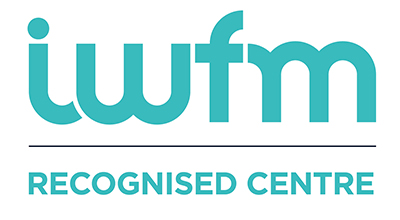 The Institute of Workplace and Facilities Management (IWFM) is the professional body for workplace and facilities practitioners.
We exist to promote excellence among a worldwide community of over 17,000 and to demonstrate the value and contribution of workplace and facilities management more widely.
The IWFM was established in 2018. It builds on the proud heritage of 25 years of the British Institute of Facilities Management.