Diploma in Leisure, Tourism & Hospitality Management
Provides students with an understanding of the Hospitality Business Industry and of the key functions within the sector
Successful completion of associate diploma plus B1 English ability (diagnostic assessment to be undertaken on application) Fast-track available.
Classroom: Blended classroom delivery, online learning, practical skills in realistic working environments
Theoretical written exams and practical assessment
Workplace Experience: Trainees will be registered with employers or on a sponsorship program to allow them to undertake training before commencing their employment duties within the workplace or continue to further study.
Portfolio of evidence completed in the workplace plus written exams
The aims are to provide a qualification that:
Provides students with an understanding of the Hospitality Business Industry and of the key functions within the sector

Provides for an effective academic progression route
Enables students to gain credit towards higher education
Enables students to develop higher level academic skills that can be applied in a vocational context.
FHM are pleased to have partnered with 2 International Professional organizations to ensure the qualifications that we offer in these sectors and recognized Worldwide and offer career and progression routes
Firstly The Confederation of Tourism & Hospitality (CTH) offers a Members Website and resources to Students who become CTH Student members when they register for FHM/CTH qualifications, and have access to the CTH Members website, as well as a lapel pin and membership badge. Students can access our online resource library including relevant e-books and journals from EBSCO.
Secondly, FHM is also a  current member of the Institute of Hospitality's Education Membership Scheme (EMS), which benefits FHM's currently enrolled hospitality students.
The EMS provides the students with free individual student membership of the Institute as well as access to many Institute member benefits including webinars, e-resources and proprietary Institute publications. 
Core Skills
English for Business
Business transactions
Workplace training
Mandatory Technical Units
Tourism and Hospitality Industry (delivered in the Associate Diploma)

– This unit aims to introduce students to the tourism and hospitality industry. Students will understand the types and characteristics of different hotel and food service providers. Students will also understand the roles and functions of different delivery channels operating within the industry and will be able to gain an insight into how the industry has developed and is likely to develop in future. 
Purpose & function of international business

– This unit aims to provide learners with an introduction to international business in general. The learner will understand the aims and objectives of business, the economic background to international business and trade and business functions within international organisations 
Entrepreneurship

– This unit aims to introduce learners to the challenges faced by entrepreneurs, how to raise finance for a new business venture and the identification and management of business risk 
Essentials of Marketing and Customer Relationships in Tourism and Hospitality

– This unit aims to introduce students to marketing, sales and customer relationships in the tourism and hospitality industry. Students will understand how a hospitality or tourism business is affected by external factors in which it operates. They will understand the key concepts of marketing and sales techniques. Students will gain an understanding of the importance of customer care. Students will develop skills to enable them to deliver effective customer service and to identify areas for improvements.

At the Confederation of Tourism & Hospitality (CTH), our core mission is to provide the highest standard of hospitality, tourism and culinary qualifications. CTH achieves this through robust monitoring supported by industry, universities and the UK government regulator, Ofqual.
Virgin Atlantic, and Star Alliance work with CTH on our Career Skills programmes while our Management programmes lead to final year undergraduate and Masters degrees with many British and international universities.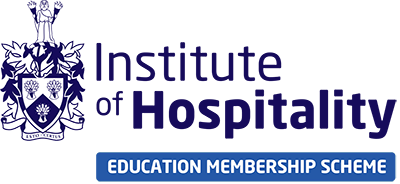 The
Institute of Hospitality
 is the professional body for individual managers and aspiring managers working and studying in the hospitality, leisure and tourism industry. It has been the industry's leading network for more than 80 years.  The Institute promotes the highest professional standards of management and education and its membership spans more than 100 countries Worldwide